6/26/20
Guys, I'm in Guitar Hero heaven.
So for all who didn't know, I am a big fan of Guitar Hero. I love the music, the culture, the 2000s vibe it gives (very nostalgic), and really everything else about the game play. It was really my first introduction to rhythm games and I've been hooked ever since.
Especally over the last five years, I really made it my goal to get good at the game. I would play A LOT and usually when my friends would come over, they would want to play with me. Everytime I would go to a GameStop, I would look to see what Guitar Hero/Rock Band games they had and would buy all the onces I didnt have to expand my song collection. I quickly got better and better and soon I was able to harder and harder play songs. Then I made it to expert mode. It would always amaze my friends to watch me play and I was known for being really good at the game (to be honest, I think they were just hyping me up, I mean I was good at a game that no one even played anymore). I truely loved playing, but I was always bummed that there was a finite amount of discs. And that's were Clone Hero came in to save the day.
I have no idea why I didn't know about Clone Hero sooner. But basically, it allows me to play any song from ANY Guitar Hero or Rock Band disc plus THOUSANDS more songs created by fans. It is really easy to install on your computer and it is compatiable with any Guitar Hero/Rock Band controller. And if you dont have either of those, you can use your key board.
I already have thousands of songs downloaded, most of which I have never been able to play before, so it is really exciting. Though, there is one major difference between the traditional Guitar Hero and Clone Hero. The difficulty is kicked up a bunch of notches. Most of the fan made songs only allow you to play expert mode, and it is WAY more challenging than what I am used to. I feel like I have reached a whole new level of difficulty. But in a way, it's kind of fun to have something to work at to try and become better. And regardless of how I do, I'm just glad I'm having fun!
If you are considering getting Clone Hero, check out this video. It explains a lot about how the game works, how to dwonload it, and how to upload songs. Really helpful stuff. I would highly recommend Clone Hero, its really fun and addicting plus its entirely free! Definitely check it out if you're interested!!
MCR REUNION TOUR POSTPONED
6/18/20
Well, it was announced a few days that the My Chemical Romance Reunion Tour would be postponed until 2021
I was fortunate enough to get floor tickets to MCR's closing show in Las Vegas since it's the closest show to my university, but it seems that trip wont occur this fall.
Honestly, when I heard about the announcement I was really sad. I have waited for YEARS to see my favorite band in action, and now after getting my hopes up about the 2020 tour, I have to wait over a year+ to see them. WHAT MORE CAN 2020 TAKE FROM ME?
I'm just playin...well okay ya I was a lil sad but it wasn't much of a surprise. I think it was a really smart move from the bands point, and I was honestly expecting the tour to be postponed months ago, so I completely understand and support their decision.
Besides, this just gives me something to look forward to. A light at the end of the tunnel. And I'm sure the concert will come soon enough!
Here are the new tour dates!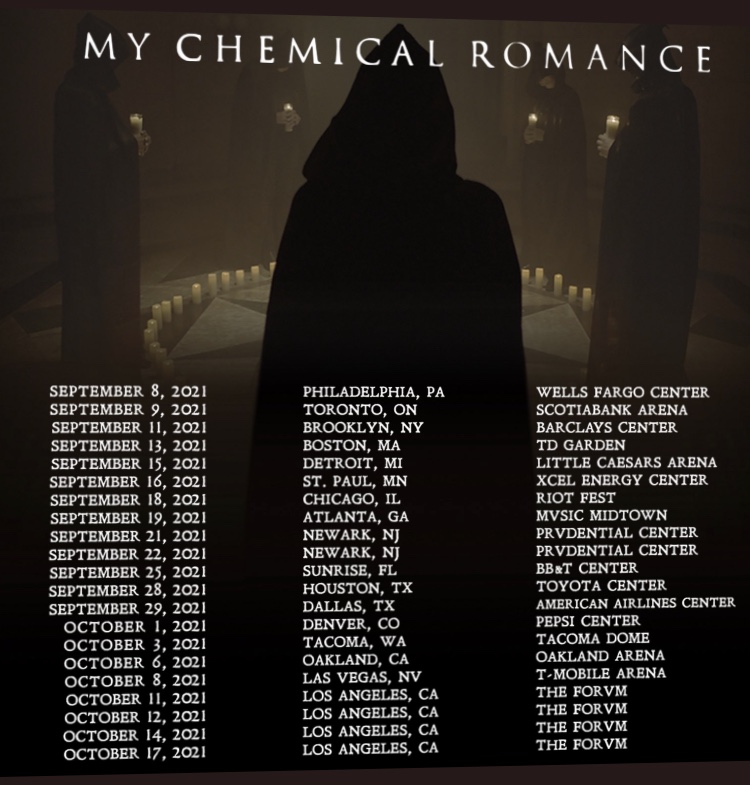 In the meantime, imma wear my new MCR DESERT SCREENING DEVICE face mask and blast MCR at home, ya know, to do my part to help stop the spread of COVID-19. It's the least I can do to ensure that the tour will happen in 2021...
NEW KILLER BEAN MOVIE
6/15/20
New Killer Bean Movie Coming Soon!
As though the Gods knew of our turbulent times, they sent a gift from the heavens. Jeff Lew, writer, producer, and director of the hit movie Killer Bean Forever, has announced a new movie to add to the franchise. If you have not seen Killer Bean before, you can watch the whole thing here for free. Believe me, its worth the time. I have personally watched it around 8+ times. It's a masterpiece.
Anyway, please enjoy the trailer for the new movie, The Return of Killer Bean. There is some potiental based on the trailer but only time will tell if it is a worthy squeal to Killer Bean Forever...
Must See: Muppets Treasure Island
6/4/20
Muppets Treasure Island; One of the Greatest Films of All Time
Alright, alright... you're probably thinking what the hell is this girl talking about?... guys just hear me out.
This is the theatrical trailer for Muppets Treasue Island, and honestly, it doesn't do the movie justice.
Sooo why am I raving about a Muppets children's movie from 1996 in 2020? Because it deserves it! I recently rewatched the childhood classic, Muppets Treasure Island (MTI) on Disney+, and boy, this film still holds up.
I expected this film to be lost to time. Jokes no longer funny. Acting subpar. Quality, overall trashy. But man was I wrong.
The story is based on Treasure Island ~obviously~ and it is pretty true to the story. Jim Hawkins (Kevin Bishop) is the main character and a human child. You can expect some cheesy 90s child acting from him, but really that's about my only complaint. Long John Silver was played by one of my all-time favorite actors, Tim Curry, and he definitely did not sleep on this role. Curry always plays villains immaculately, but it was really refreshing to see his softer, more caring side. The background actors are so loveable and humorous. Shout out to the bald pirate for his performance in Cabin Fever. You truly blessed my eyes.
I was born in the era were Muppets weren't really popular? Or maybe they just weren't in much media at the time? Basically I knew who the muppets were but I never really got to watch them in action. So MTI was really my first introduction to them. And there is NO other way I would have rather had it. Each muppet's personality truly shined even though they were each playing characters corresponding to Treasure Island. For example, we know that Kermit is the captain but we can also tell he is the kind-hearted leader or Ms.Piggy played Ben but she was clearly still her glamorous, over the top self. The casting of the muppets to Treasure Island characters was done really thoughtfully.
The comedy was the BEST part of the entire movie. Scene after scene, the humor got me laughing till my stomach hurt. I assumed the humor would have been dated or would be super childish (which to be fair, it probably is) but no it really aged well. I picked up on tons of jokes that would have gone way over my head as a child. Some of it is just a stupid comedy, but I still found it really amusing. Such as the ongoing gag that all the rats thought they were on a cruise. This movie is so quotable. There are scenes I had to rewind multiple times just to watch them again because they were so funny. I don't want to call out specific scenes because I think it's best you watch it and see for yourself.
Overall this is just a great movie. The acting is great, the music hits, the plot was clear&well thought out, and the comedy was golden. Even though its a children's film, there were still numerous dark scenes, complex dialogue, and amusing humor. Please, if you have the means, watch this movie. You WON'T regret it. I promise.
Final Rating
10/10
Netflix: Outer Banks
6/3/20
So I watched the new Netflix series Outer Banks and I have somethings to say about it.
THERE MIGHT BE SOME SPOILERS. I WILL TRY TO KEEP IT AS SPOILER FREE AS I CAN BUT YOU HAVE BEEN WARNED!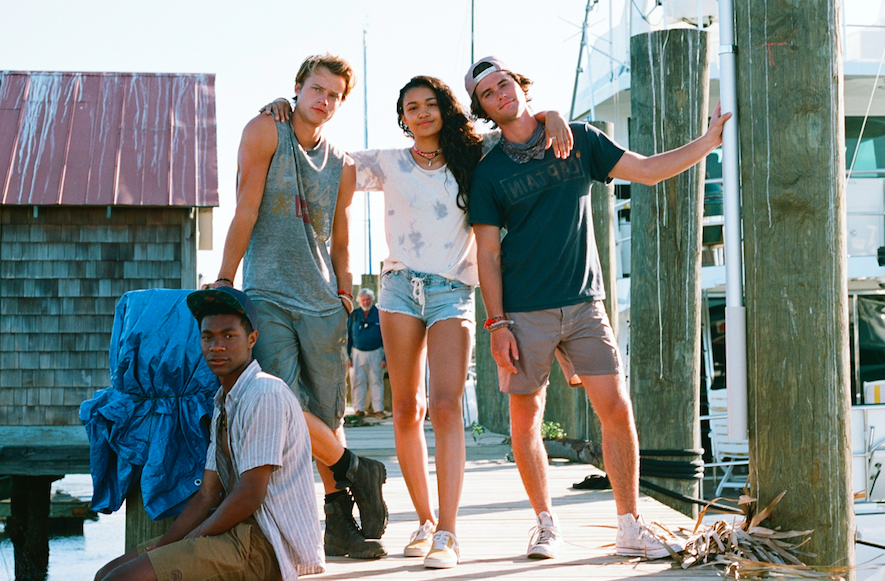 I honestly really didn't want to watch the series when it came out BUT funny enough my dad really wanted to watch it. Never in a million years would I think my dad would want to watch a teen romance drama series but my dad owns a beach house in the Outer Banks, so naturally he was really excited when he heard about the series. As much as I disliked it the first time, I ended up rewatching it again with my brother and his fiance. So yes... I have sadly seen it TWICE. Boy oh boy I'm gonna need some advil...
Just to get it off my chest, about everything about the Outer Banks in this series is completely wrong. See the series was filmed in South Carolina, while the actual OBX is in North Carolina, so the scenery is completely off. Just about the entire Outer Banks location plot stuff is fake, so just ignore all of that.
Story wise, the series had its ups and downs. The whole hunt for treasure was really inguring and kept you coming back for more but I have my complaints. In almost every scene, something has to happen which puts the main crew in danger for their life, whether its being hunted by men with guns, thrown off a building, or almost burned alive. It gets really tiring. The romance side is a whole 'nother story. I personally found the romance to be really plastic, cringy, and all together done terribly.
At the start, the characters played off of some VERY basic sterio types such as the girl who wants to save the turtles and the smart nerdy guy, etc. They were extremely plan and boring. As the series progressed, some of the characters evolved, I think JJ (Rudy Pankow) was my favorite over all. He has the most interesting and difficult storyline. Even so, the main character John B (Chase Stokes) was pretty plain and boring the entire film. His main character trait is seeing how many times he could take off his shirt. Topper (Austin North) was truly one of the most oblivious and 2D character I have ever seen. There is just SO much I could say about each person individually (and to be clear there are so many characters I haven't even mentioned yet), but I think that would make this post wayyyy too long.
Is it just one of those classic cheesy teen series? Yes. Did I enjoy it? No. Was it worth watching? I keep coming back to this question. Was it worth it? I'm not sure. It is in no way realistic at all, but its a show, its supposed to be like this right? I'm glad I saw it so I can understand all of the hype and references but it felt like a huge waste of time and effort.
Final Rating
5/10
New Palaye Royale Album
5/31/20
New Album, "The Bastards"
The new Palaye Royale Album, 'The Bastards' was just released on May 29, 2020. For those who do not know, Palaye Royale is a fashion-art rock band comprised of three brothers; oldest and lead guitarist, Sebastian Dazing, middle child and frontman, Remington Leith, and the youngest drummer, Emerson Barrett. My first impression of them was when I heard their song 'Dying a Hot Tub' which is # 9 on the playlist over on the right-----> and was hooked!
Palaye Royale had already released some songs from 'The Bastards' before the actual release, so I already had a pretty good impression of how the album would be going. This was clearly a really personal record. They explained that the album displayed darkness, vulnerability, aggression; simply truth. The band built an era with this album and they will be remembered for it.
Here is my album breakdown:
Little Bastards - This is a wonderful album opener. It really sets the tone for the rest of the record.
Massacre, The New American Dream - Clearly a cry for the citizens to stand up against the wrongdoings of their government.
Anxiety - This song is just rough and raw. The music makes you feel so unapologetic for just being who you are regardless of your issues and insecurities.
Tonight is the Night I Die - The heavenly choir in the background just adds so much to this song. It reminds me of those songs in the opening of the James Bond movies.
Lonely - So personal and so sad. The lyrics are just...just... incredible. The lyrics are overwhelmingly relatable. This was the first music video Remington directed and it was clearly a very personal one.
Hang on to Yourself - I am just obsessed with this chorus. When this was released a few months ago, I could not stop playing it.
F****ing with My Head - Imagine going insane. This is what it feels like.
Nervous Breakdown - This is #18 on the playlist to the right. You can totally hear the aggression and feel the panic, desperation, and confusion of having a nervous breakdown.
Nightmares - This song took me by surprise. It is very different from their traditional songs but it still fits the album so well. Another song I can just relate to on a personal level.
Masochist - It has a great message. You've got to hold on...You've got to stay strong.
Doom (Empty) - Totally slows down the record and takes a whole darker tone. Such a beautiful yet tragic song.
Black Sheep - Have you ever felt like the outcast? Well, you're not alone. Best part has to be the bridge.
Stay - Kinda makes you feel like you are floating in water or that life became slow motion.
Redeemer - So much quieter than the rest of the album. It just makes you wanna cry. I love the chord progression during will you please pick up the phone? and will you please come back home?
Lord of Lies (Bonas Track) - This is just extraordinarily chaotic.
There is so much more I could say about this album but I think it's best I just shut up and let you listen and give your own opinion, I'd love to hear what you guys think! Listen to the album here